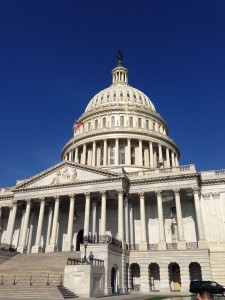 It seems way too simplistic to say that my recent experience of lobbying in Washington, DC with the Citizens' Climate Lobby was incredibly rich.  The reason being that the week provided the kind of experience that demands much and rewards more.
Here's what I noticed –
First, imagine the collective energy of over 600 people who are committed to the same effort!  The amount of adrenaline flowing was palpable from early on when participants were arriving.  It kind of picks you up and carries you along.  And there's the energy of meeting so many new people from all over, especially exciting since we speak the same language!  Then two days of getting to know each other while being exposed to valuable information, ideas, opinions and opportunities before setting out to meet with members of Congress. This "setting out" was akin to riding the crest of a wave – a wave that washed over the offices of almost all members of the House and Senate!
The second most impressive aspect for me was that we lobbied in groups.  Simple, yes, but brilliant.  Each of us brought a unique background of experience and set of skills, not necessarily having to do with whether we had participated in lobbying efforts before.  What was more important was how we worked with our group as we met with  the member of Congress or, as often happened, with his/her legislative aide.
Also, I saw the importance of caucusing in the hall before entering the meeting with the MOC.  Establishing priorities, setting out who takes on which role in the meeting, reviewing what we knew about the MOC and checking in with any more tangible connection any of us might have to bring to the mix.  In the broader perspective, we were connecting with each other around our common intention and then, refining our potential for connection with that particular member of Congress.
Finally, being present to the "in the moment" dynamics of the meeting itself.  Seeing how important it was to be aware of when to let go of some detail of our agenda,  when to back off of evidence of climate change or expounding on the data of the REMI report, when to challenge, when to sympathize, how to find that opening that allows you to jump in and land on both feet.
Then, of course, the postscript – what worked, what didn't, and what's our next step with this House Representative or Senator to get closer to passing carbon fee and dividend legislation.
Now, take a deep breath, and on to the next meeting…